Familywize Community Service Partnership
80 million people in the United States are uninsured and underinsured. In the last two years, 40% of the U.S. population either didn't buy medicine they needed or reduced the required dosage because of the high cost!
Health care coverage is one of the top concerns for people in our community. United Way of Southwest Oklahoma is committed to helping increase access to affordable health care and getting everyone the medicine they need. Many people who live and work in our community struggle to pay their bills and have to choose between getting the medicine they need and paying for food, rent or utilities.

We are pleased to partner with FamilyWize to offer this important free prescription discount card program to help everyone in our community.
Since FamilyWize began in 2005, this free prescription assistance program has helped over 4.5 million people save money on their prescription medications. As you can see from the counter, our United Way of Southwest Oklahoma and other United Ways across the country are working with FamilyWize everyday to help more people.
About the Discount Card
FamilyWize essentially acts like a huge consumer group buying service for the uninsured and underinsured. The discounts and savings on medications are provided voluntarily by the more than 61,000 participating pharmacies that have agreed to provide prices similar to what they give large insurance companies and employers. The participating pharmacies get more business, in three ways:
1. FamilyWize directs people with FamilyWize cards to their stores;
2. People are able to fill more of their prescriptions because of the savings;
3. People often buy other things when they go into the store to get their prescriptions.
Save money on prescription medication!
Just print your FREE prescription card and show it to your pharmacist. Save Up to 75%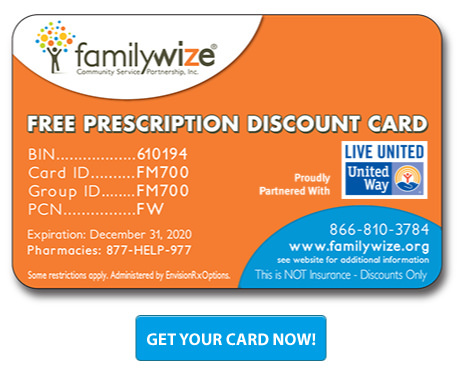 Frequently Asked Questions:
Who Can Use The Prescription Discount Card?
The FamilyWize prescription drug discount cards can be used by everyone in the community for prescription medicine. Not just people with no insurance. There are no usage, age, or income limits.
How Does the Card Work?
Simply give the card to the pharmacist with your prescription. An instant discount— varies by medication—is applied to the prescription medicine. The card provides pharmacy discounts (up to 75%) on all FDA approved prescription medicine not covered by insurance, Medicaid, Medicare or other benefit plans. You pay either the discounted price or the pharmacy's retail price, whichever is lower.
Where Do I Get A Card?
Just click the free prescription discount card above to print your own. Or text the word "family" to 700700 and receive card information on your phone. Take it to one of the 60,000 participating pharmacies to begin saving immediately.
Live United
You can change someone's life by printing FamilyWize cards and giving them out to your friends, neighbors and co-workers, or just handing one to someone in line at the pharmacy or supermarket.
Advocate
If you are part of an organization that can help United Way of Southwest Oklahoma distribute a large number of cards to your employees, members, or clients please contact our office at 580.355.0218, to join us in increasing access to healthcare in our community.
To learn more about the FamilyWize United Ways Prescription Drug Card, please visit http://www.familywize.org.
Look up the Discount Price for your Medication here.
Using your FamilyWize Discount Card is easier than ever!